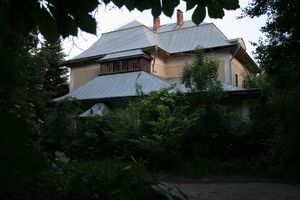 For non-English speakers, please click here or use Google Translate.
Welcome People!!!
Edit
La Vila park is an amazing place in the city of Mîndîc, Moldova. This wiki aims to give you informations about the park and activities there, especially the Space Camp, like the next one, Space Camp 2012!
Please do contribute!
Edit
I just created the wiki, and I feel a bit alone... So if you have anything to say about the park or the Space Camps, please do it!
If you want more informations about what is a wiki, please go here. Basically, don't hesitate to modify an already existing page (even for spelling mistakes :), or create a new one and link it with the others (for example, click on a red link on this page, which means that the page doesn't exist, and create the page that bring informations). On each page, there is also a discussion page, which is made to discuss the modifications on a page when there is a disagreement (or something else to discuss...).
More informations about how to contribute here.
About the park
Edit
The park created in 1896 by Kaetan Ohanowicz has a long history. This rich Polish man settled there and created the park, planted a lot of different varieties of trees and built several buildings, including a villa designed by Alexander Bernardazzi.
Later, the USSR used it as a pioneer camp and built other buildings. Nowadays, it belongs to the Ministries of Culture and Environment and is attached to the Museum of Ethnography in Chişinău.
In summer 2011, a group of people decided to create a Space Camp there to organize different types of activities, including workshops and cleaning.
There is a project to organize a new Space Camp this year.
Useful informations
Edit
Latest activity
Edit
Community content is available under
CC-BY-SA
unless otherwise noted.